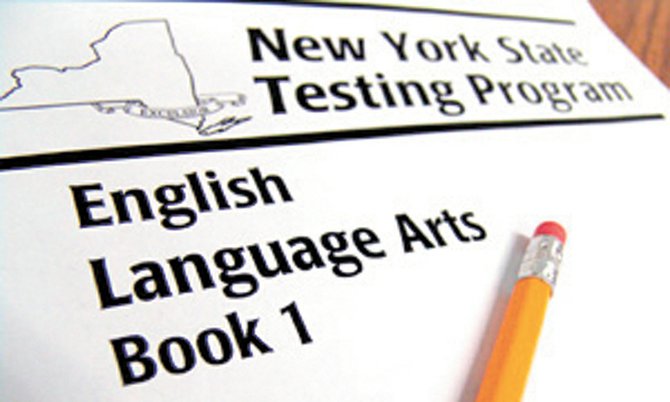 Sate Testing is made to determine whether or not a student will pass to the next grade. State and federal programs have decided that high steaks tests are required for students. Every year the state makes their tests harder or even changes up the name. Right now we have to take the STAAR and MAP then in March we will have to take the PARCC and later in high school we will have to take the ACT and SAT and who nows whatever else?
There are many questions being asked about the amount of tests and the state needs to come up with some answers. In my opinion, before they started administuring these state tests they should've made sure that the parents, teachers, and children were okay with taking them.
Personal Opinion:
Personally I don't think that they should have one test and debate whether you get advanced to the next grade or fail - like the MAP - because you could have been the smartest student in your class with the highest grade, and then you take the test and find out that you failed. How would someone cope with knowing or even thinking that they even had the slightest chance of passing when they have been studying all year long for this test then fail?
- Danaisha 8th grade
Here are some stories that I found helpful about standardized tests:
Standardized testing eats up instruction time. from education.com
"Former Texas State Senator Ted Lyon found that high school students in Texas spend between 29 and 45 days a year taking tests. In Tennessee, students spend six weeks in testing a year, and California's students spend four, according to PolicyMic.com. These numbers don't include the weeks and months spent on test preparation classes and benchmark practice exams. Schools are forced to make tough choices about course offerings to accommodate time spent preparing for standardized tests. Subjects such as art, music, and certain physical sciences aren't tested, and therefore administrators often eliminate them from their schools. When New York City's scores dropped in 2010, many schools added two-and-a-half-hour test preparation sessions daily and additional test practice over holiday vacations, according to local papers. Decisions like this risk compromising the quality of public education, especially in high-need areas."
The stakes are too high. from education.com
"Under the No Child Left behind Act, test scores impact how much funding a school gets from the government, as well as how much autonomy a school has. Low-performing districts run the risk of state officials taking over operations and leaving them with little freedom to make independent decisions. Schools with low scores are required to make "Adequate Yearly Progress," a specific measure of improvement year to year. Critics of the No Child Left behind Act say that there is immense pressure on school officials, teachers, students, and parents. That pressure to succeed creates a poor environment for learning—an environment of fear, rather than discovery."